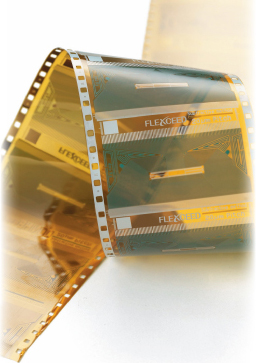 Printer TAB
Printers are evolving day by day along reduction of printing dot pitch for more beautiful and vivid picture.

Based on the fine pitch technology which was developed for LCD drivers, Shido continues to support industry of high resolution printing.

Printer applications require high endurance of coverlay materials to ink used in printers and folding endurance other than fine pitch.
Structure of Printer TAB with Coverlay
Evaluation Results of Endurance to Ink

There is possibility for Printer TAB to be exposed to printing ink (Alkali) because it usually is used near the printing head.

Therefore materials for Printer TAB, especially for coverlay or solder resist should have high endurance to the ink.

FLEXCEED selects such materials based on evaluations like below and applies them to Printer TAB.